Onya Aid, held at The Honey Bar on Australia Day 2011, was a roaring success – the event raised $6,000 for those affected by the Queensland and Victorian floods. Sandi Sieger, Onya's Director and Editor-In-Chief, said at the event,"In under two weeks, all of this came together. The donations, the promotion, all of it. Onya may just be an online and soon to be print magazine, but it's not powerless. A tiny group of people in a small amount of time made this happen. And we did it because we care. We care about people, and our country, and we felt that it would be wrong not to help."
"Deciding to hold Onya Aid on Australia Day meant we had to move fast, but it was a no brainer – Onya and Australia Day go hand in hand. We are the magazine that celebrates Australia, that supports Australian businesses, that encourages Australian talent. And we do so because Australia is an amazing country. Because there's actually no other place in the world quite like it. Because, we, all of us, Australians, no matter where we've come from and where we're going, are pretty unique too."
She continued, "Australia Day often gets a bad wrap. Mainly caused by bogans that adorn themselves in five variations of the Southern Cross, and drink until they're legless. But that's unfair. Because there's so much more to Australia Day than the Southern Cross. And sausages on a BBQ. And wearing thongs. There's so much more to Australia. Australia Day is a celebration of who we are as people; kind, hard-working, down-to-earth, honest, witty, generous, friendly, compassionate, warm, and talented."
"Words like mateship get thrown around a lot on Australia Day. And so they should. Because that's exactly what this is, and it's a part of what makes us Australian; being there, for your mate. Standing up, for your mate. It's what Corporal Ben, the SAS soldier, was recently awarded a Victorian Cross for. It's why we got Onya Aid off the ground in such a short time. It's why you're here. It's letting our mates know we've got their back."
"Australia Day is a day we should celebrate with nothing less than pride, because we have an awful lot to be proud of."
For more photos, and video, of Onya Aid, please visit our Facebook Page: http://www.facebook.com/OnyaMagazine
Image Credits: Natalie Morawski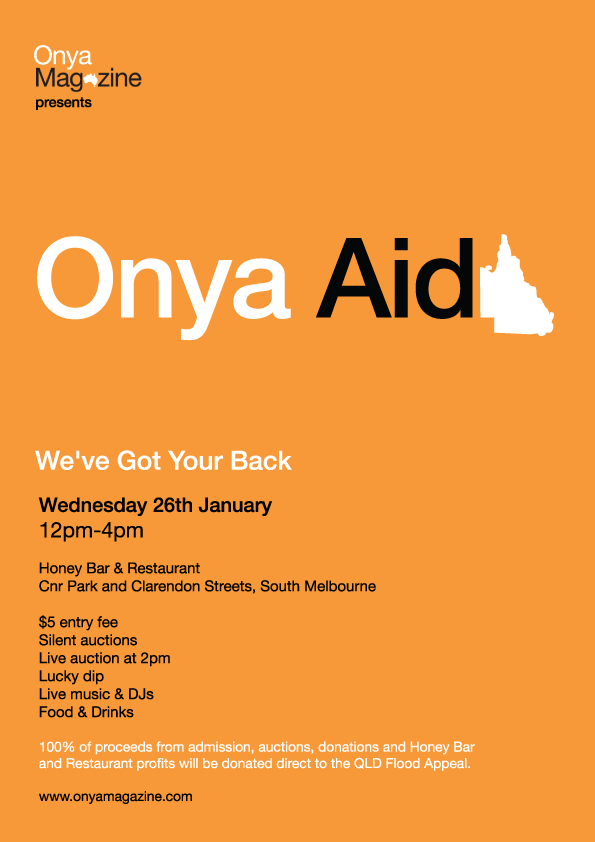 Onya Magazine, together with the support of local businesses and organisations, are proving that Australians are strongest when their neighbours are in need, hosting a fundraiser to raise desperately needed cash for flood devastated Queensland.
With 75% of the state declared a disaster zone, a rising death toll and immeasurable damages amassing, the Australian focussed magazine is stepping up to host Onya Aid, with 100% of proceeds being donated to the people of Queensland*.
Onya Magazine Director and Editor-In-Chief Sandi Sieger said, 'Australia is known for its mateship, especially in times of need. When our neighbours are in trouble, Australians step up and that's what Onya Aid is all about – community and mateship. We want Queenslanders to know – we've got your back.'
Aptly planned for Australia Day, (Wednesday the 26th of January from 12pm – 4pm) the event will be held at Honey Bar and Restaurant on the corner of Park and Clarendon Streets, South Melbourne and all profits from Honey will be donated to Onya Aid.
Honey Bar owner Steve Vallas, who has also generously donated his venue and time, said, 'Every little bit counts and we are just doing what we can. There is nothing more Aussie than a beer on Australia Day, so why not have a beer with us and help in getting Queenslanders back on their feet.'
The event will host a silent auction of items from Australian companies, and a live auction at 2pm for big ticket items like a Ken Duncan framed print, athletic memorabilia and more. There will be live music, Byron Cooke spinning disks and Melbourne celebrities and local identities in attendance.
Entry to the event is just $5 on the door, with 100% of proceeds from admission, auctions, donations and Honey Bar profits being contributed directly to the cause.
You can RSVP to this event on our Facebook Page: http://t.co/YgtNnkY
*Please note: Funds from Onya Aid will be donated to The Australian Red Cross, to assist with those affected by the Queensland floods, but also those now affected by the Victorian floods.
Auction Items for Onya Aid's Live Auction, Silent Auction and Lucky Dips:
1 x Framed Ken Duncan Photograph. Valued at $240.
1 x Cartier 'Love' Ladies Watch. Valued at $11,450.
2 x Michael Bublé Visa VIP Dinner and Show Package for 2. Valued at $699 each.
1 x Shoes of Prey Voucher. Valued at $325.
1 x Sarah Conners Handbag. Valued at $425.
1 x Unidot Sunglasses. Valued at $160.
1 x Golf Club signed by Adam Scott.
1 x Studio Experience with Fifi Box and Jules Lund.
1 x Couples Photo Shoot Studio Package from Couch Media. Valued at $495.
2 x Cases of ShadowFax Wines. Valued at $360.
5 x Hairspray The Musical Double Passes. Valued at $300 per pass.
1 x Tap Dogs Double Pass.
4 x Damselfly Jewellery Pieces.
1 x Madman Entertainment DVD Package including Animal Kingdom, Offspring, The Lost Thing + Many More.
4 x Joolz Jewellery Pieces.
1 x Various Books Package.
1 x Couples Massage Class Voucher at Como Melbourne. Valued at $350.
1 x Make Me Iconic Hamper. Valued at $100.
1 x ACMI Double Pass.
1 x Roopa Pemmaraju Silk Kaftan. Valued at $595.
1 x Business Chic Personal Styling & Wardrobe Consultation session.
1 x The Purist Company Beauty Hamper.
1 x Botani Beauty Hamper.
1 x WotNot Beauty Hamper.
48 x Kosmea Hydrating Rosewater Mist. Valued at $19.95 each.
4 x Natio 'Summer Romance' Beauty Packs. Valued at $39.95 each.
4 x Natio 'Real Man' Beauty Packs. Valued at $29.95 each.
3 x Natio 'Summer Bronze' Beauty Packs. Valued at $29.95 each.
1 x Natio 'Skincare' Beauty Hamper. Valued at $200.
1 x Be Genki Hamper.
90 x OP Therapy Body Hydrator. Valued at $18 each.
8 x Isabella Women's Shoes.
4 x Hinako Women's Shoes.
1 x Le Tan Beauty Pack.
1 x Australis Beauty Pack.
1 x Aquapac.
3 x New Balance Pedometers.
3 x Enduro Outdoor Compass.
1 x Sports Wrist Camera.
1 x Two Year 'Find A Uniform' Membership. Valued at $150.
+ more to come!